It's got everything you need.
StoreConnect is a full-featured eCommerce solution with native Salesforce integration.
Complex eCommerce made simple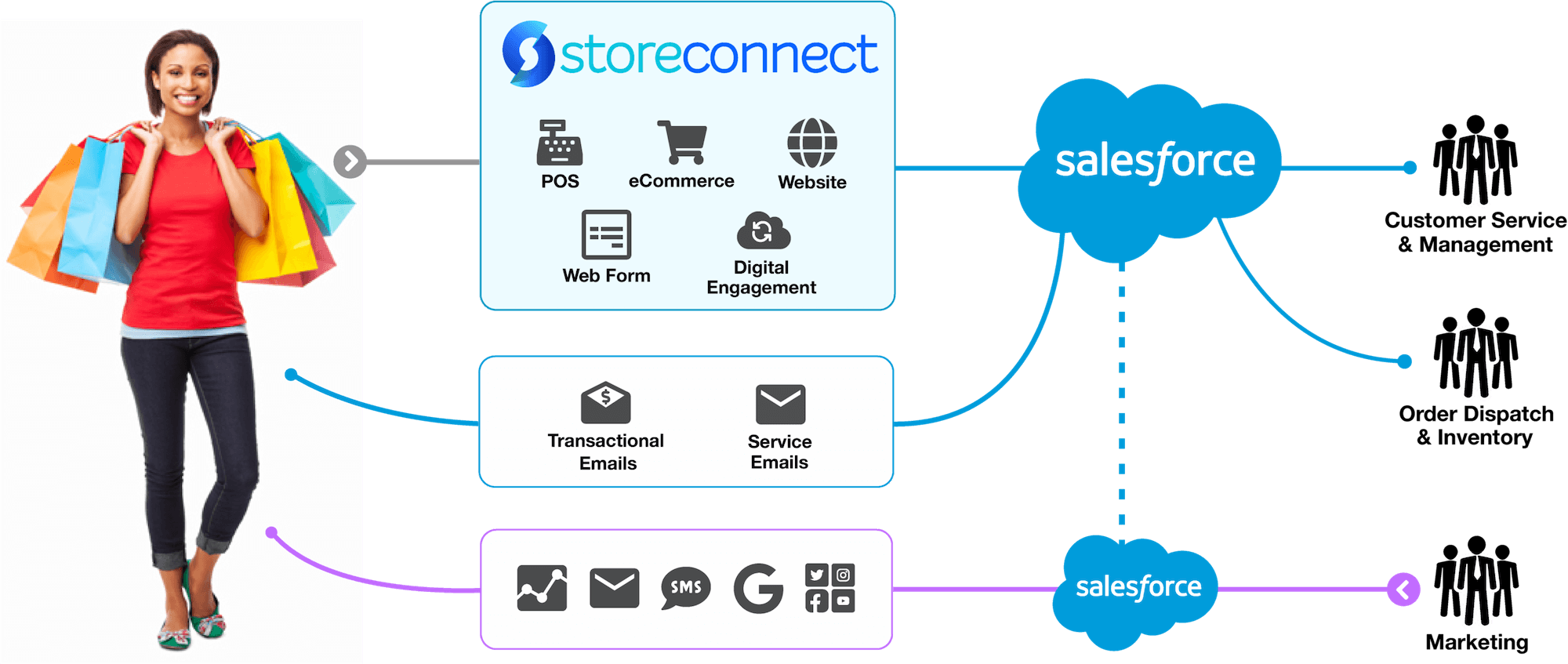 Manage multiple sites easily
Having more than one store can be extremely difficult to manage, let alone 5 or 10! But not with StoreConnect and Salesforce. With one unified framework, you can manage all your eCommerce sites from a single Salesforce environment and StoreConnect system.
StoreConnect can be configured to allow multiple storefronts running on the same StoreConnect instance, providing you with a cost-effective way to display multiple branding options or price variants on different domain names and servicing different regions or customer groups.
Dynamic shopping carts
Do you have clients who order the same thing, month after month? We can auto-populate their cart saving time and making sure they don't miss anything. They can edit the order before checkout and proceed with the order. It's ordering simplified.
Do you have many types of customers with many different price lists? No problem - when your VIP customers log in, they see their own personalised pricing.
Talk to them in their language
Fashion your site to account for different cultures, customs, languages, and currencies so that what they are seeing is familiar to them.
Custom 3rd party integrations
As StoreConnect is a Heroku application, you can purchase custom development to implement any integration with 3rd party systems directly into their online store and through StoreConnect have full synchronization with Salesforce.
Full product management
All product details are fully managed through Salesforce. Product pricing, details, images, price books, variants, taxonomies, and availability are all handled via your Salesforce environment. Updating product details in Salesforce automatically updates StoreConnect instantaneously.
24/7 Support and maintenance
Keeping a store online and secure is critical in the modern business world. Every StoreConnect installation includes support to provide software version upgrades, security patches, and 24x7 support. At StoreConnect we have been building and hosting our client's software applications for over a decade, keeping them online, scaled, and secure. We have a dedicated Operations Team providing follow-the-sun support, no matter the time zone. We wear the pagers so you don't have to.
StoreConnect® Features
100% customisable
The beauty of StoreConnect is its ability to be customised. Need your own design implemented? No problem. Do you have custom business processes? Easy. Need connections to an ERP? Our partners have done that before.
StoreConnect comes with a clean, 100% mobile responsive design out of the box. If you're happy with that - too easy! If not, your in house web developer or Salesforce StoreConnect partner can create a new theme and design for you.
Payment provider integration
The payment providers supported out-of-the-box are Stripe, Paypal, ZipMoney / ZipPay and E-Way with Payment Express coming shortly.
If you're a B2B company who accepts purchase orders from your clients, we can easily arrange that as well.
Additionally, we can create custom connections to any payment provider that allows API access - just ask us and we can evaluate adding it to the roadmap.
Multiple currencies/countries
If your company is operating in different countries we've got a solution for that. We allow multiple currencies and multiple pricing to be shown in the one store, or you can set-up a new store for each country with its own dedicated look and feel and URL, all centrally managed through the one StoreConnect installation and your single Salesforce environment.
The truth is, Salesforce has been working with these issues for the past 20 years and we partner with them for the heavy lifting. We've developed a platform that makes the eCommerce part easy!
Inventory management
When you install StoreConnect, you gain access to the StoreConnect stock management system - a feature rich tool allowing an unlimited number stock locations, stock receipt, stock shipping from retail outlets or warehouses, stock transfers between locations and much more. We humbly feel some customers might want to install StoreConnect just for it's stock management!

Custom & multiple price books
Custom pricing has never been easier. Set and manage multiple price books within Salesforce to cater to different customer accounts or even set individual pricing for products to specific customers or customer groups. Easily managed within Salesforce by your non-technical staff, allowing you complete control of the user experience.
Shipping management
StoreConnect provides multiple shipping options and allows users to define different shipping prices and methods for each type of product.
Live chat enabled
Talk to your customers in real time with instant messaging. Salesforce Live Agent plugs in directly, out of the box, to every StoreConnect installation and is proven to increase sales.
Promotion management
Promotions can be created and managed with StoreConnect quickly and easily, providing start and end dates of the promotion, usage limits, and rules around how each promotional code can be used or applied to different products.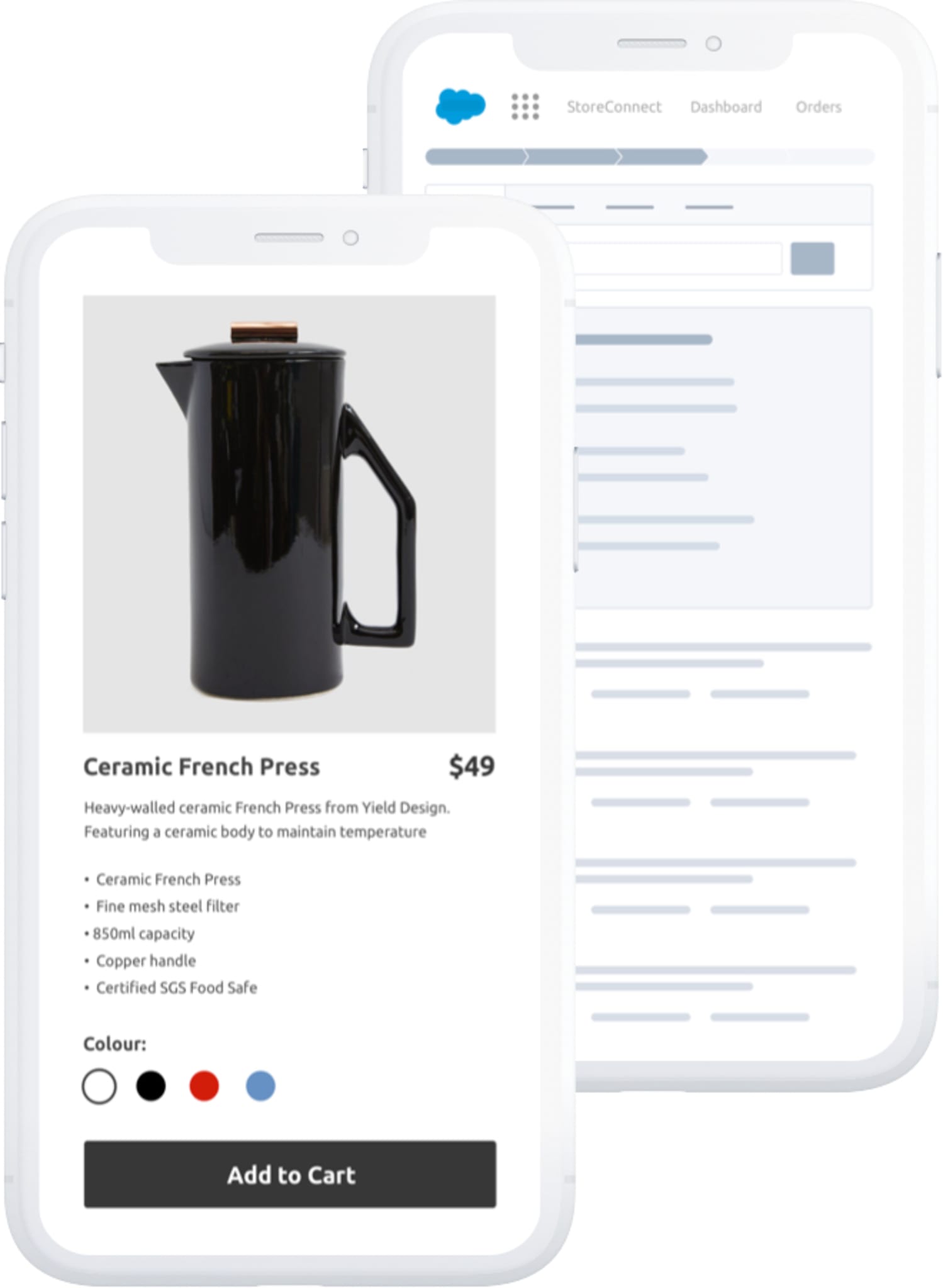 Content management system
The StoreConnect Content Management System allows you to add and update static pages, banners, and promotions without the need for an expensive development team. These pages are edited through a simple, user-friendly administrative interface.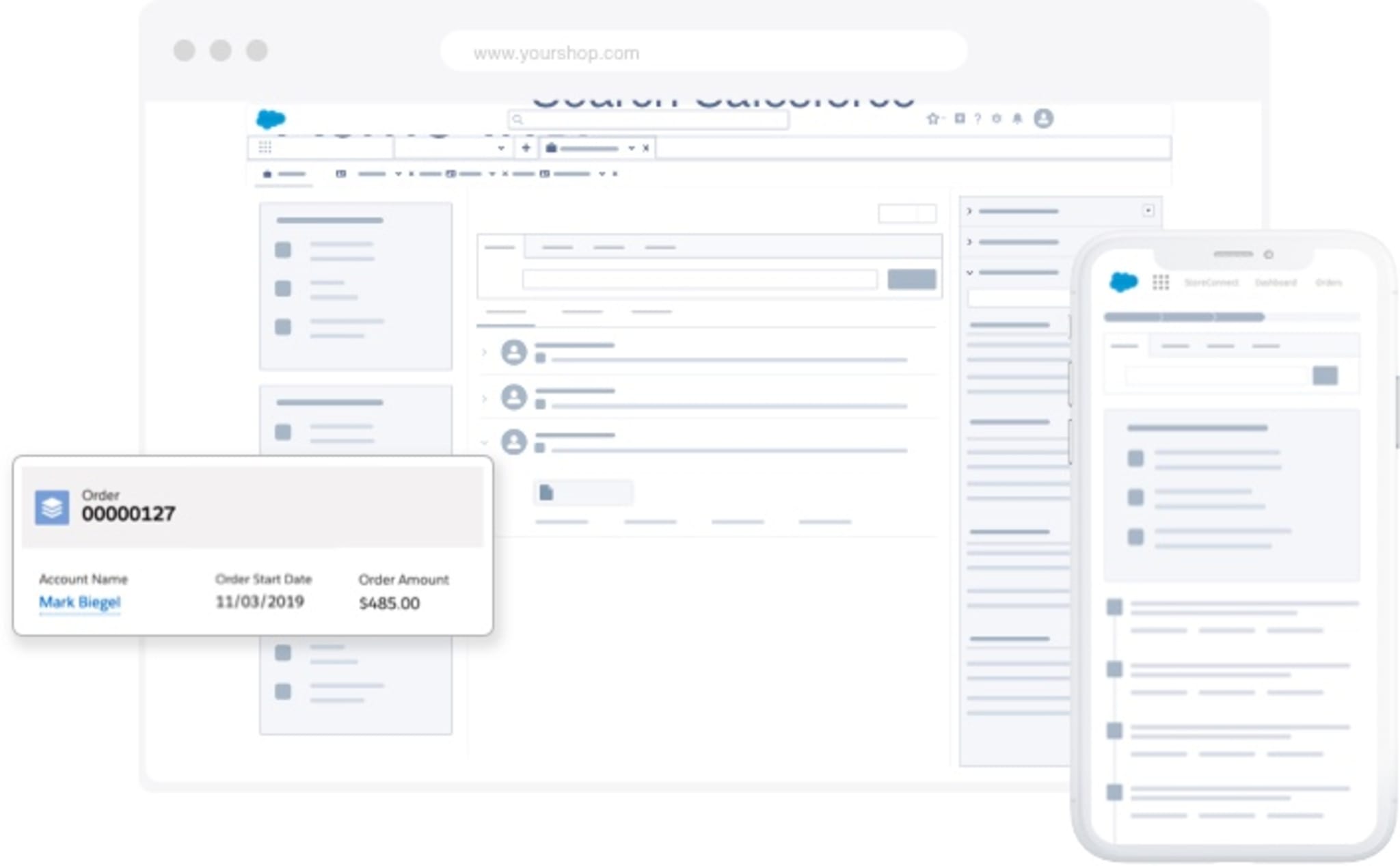 Mobile responsive design
Give the customer the full experience with minimal fuss on their mobile devices. Responsive design ensures they are able to find, understand and purchase something anywhere, anytime.
Simplify on-line product updates
Once your StoreConnect store is built, any product updates, change in prices, promotions, etc., are all done by your staff through your Salesforce console. Updates are virtually instantaneous and notifications occur in real-time through the seamless and instantaneous integration between your StoreConnect store and your Salesforce environment.
Single customer view
StoreConnect provides a single customer view of all transactions done through the online eCommerce store. Customer details are managed via Salesforce. Every purchase, order, and abandoned cart is automatically synchronised to the corresponding Salesforce customer record and product, providing real-time data on purchases.
Scalability to match your market
StoreConnect makes it easy to tailor your content to any market location or size.
Execute global content strategies
Build great digital commerce experiences with targeted content, offers, and relevant products that are organised by language, country, state, region, or city.
Minimize the risk, cost, and technical complexity of entering new international markets with our secure, borderless infrastructure.
Speak their language
Quickly customize sites to account for customs, cultures, currencies, and languages. Give regional teams their own localized reference architecture for a number of different regions.
Launch and manage all your B2C & B2B eCommerce properties — brands, sites, geographies, and devices — from a single, unified framework.
Manage your business with Salesforce
Sales Cloud
Sales Cloud is a complete tool for sales management, bringing all customer information into one platform.
From lead generation, sales, customer contacts and communication, account management, and business analytics, Sales Cloud allows you to optimise your campaigns along every channel, turning leads into closes.
Marketing Cloud
StoreConnect allows you to connect seamlessly with the world's most powerful 1:1 digital marketing platform.
Create complex Marketing Cloud rules or automated marketing campaigns based on customer behavior. Full integration also allows a smart analysis of results helping you optimise your marketing efforts and truly engage with your audience across the web, email, social, and mobile.
Service Cloud
Connect with a superior customer service and support platform. With a complete view of your customer's engagement with your business, Service Cloud allows you to resolve service queries accurately and with speed.
Community Cloud
StoreConnect can synchronise with Community Cloud, allowing you to build an online community for the different audiences vital to your business ecosystem. Examples include your customers, suppliers, employees, patients and even retail locations. Automatically sign up online customers to your various communities, directing them to the relevant product and user forums.
A Customer Community helps customers help themselves and each other and can free up your service staff to handle more complex service issues.