The Spring '22 release is here!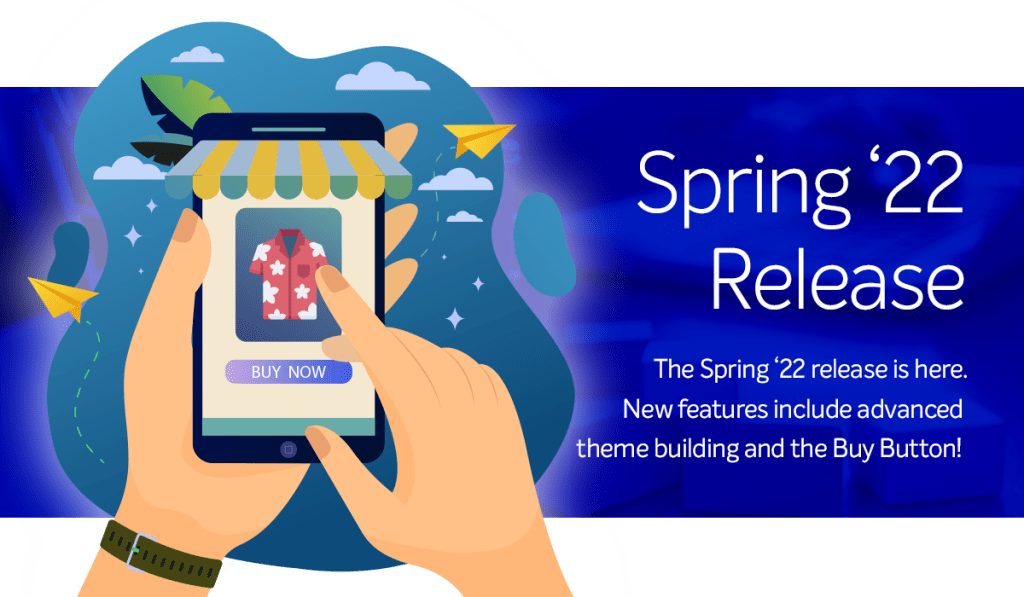 April 4, 2022
We've been busy over the past few months making a more usable, more feature rich StoreConnect. Here are the highlights of our Spring'22 release:
Theme Builder
Our new Theme Builder allows the creation of fully styled content block templates, page templates, and article templates. Content blocks, pages, and articles have their own HTML, CSS and JS to style all aspects of the content. When used with liquid, these themes can be rapidly applied throughout the store.
Theme templates allow store owners to rapidly build the customised pages they need and to rapidly iterate on their designs and create amazing stores much faster and allows the theme developer to quickly preview each theme change on the live store with live store data allowing for rapid and simple design iteration and final approval process.
Buy Button
The buy button is a single, customised URL that adds a product to the cart and takes the user to the checkout page (or cart) of the store - in one click.
In addition to product details, other information like a user's name, the quantity to purchase, email address and others can be pre-filled from the URL. When used in conjunction with liquid, or Salesforce Marketing Cloud, user information can be dynamically prefilled to create very personalised marketing material for users. The buy button helps convert more visitors to customers by reducing friction and saving time in the purchase process.
Location Finder
A common use case our customers have is a store or location finder letting their shoppers find the closest store, retail outlet, or service centre rapidly. Therefore we have added this as a core functionality to StoreConnect. Many of our clients are selling in multiple countries with unique stores and currencies for each geographic region. StoreConnect has now added the ability for each store to have a unique location finder so the store can direct visitors to the right store for a seamless visitor experience.
You can have multiple location finders, if you need, in the event you need to cater for different types of locations a customer might be looking for, eg Outlets that sell your products or services; Service Centres that can service your products, Retailers for third-parties that sell your products.
Order Balance Payment
We have all made mistakes when shopping online and wanted to change the order we just placed, so we call (or use the online chat) and change our order.
But what if we need to pay a bit more as a result? Do we give the card over the phone? What if we need to pay with a different card? With this new feature, customers can login to their portal, review their orders and, where orders require further payments, to complete these payments with whichever card they wish, securely and easily.
This greatly simplifies the process of amended orders, reduces double handling of orders and maintains security of customer information by handing off all payments to secure payment providers.
Capture of customer browser data
To help our users better understand their customers and detect possible fraud, StoreConnect now stores your customer browser information on the Salesforce order object. This includes information such as IP address, location and similar information, providing better visibility of who is buying what from where.
Shipping accepts metric and imperial weight units
Yes, we realise that some countries use alternate units of measure for their products. As we reach more diverse customers and reach further into North America, it's been a necessity to ensure our systems are fully compatible with all business models. To this end, StoreConnect now supports shipping weights in grams, kilograms, metric tonnes, ounces, pounds and short tonnes. All are valid units of measurement for shipping. Further, the system will calculate combinations of each so you don't have to - and provide the final weight for shipping.
—-
While these are the major feature updates, we have also been busy behind the scenes updating the platform with a few dozen more updates, bug fixes and enhancements to existing features so you and your store visitors always have the best possible experience.
See the release notes on our help site for the full list of updates over the last 6 months. Now we are in the process of rolling out the Spring '22 Release to all existing stores.