The small business software dilemma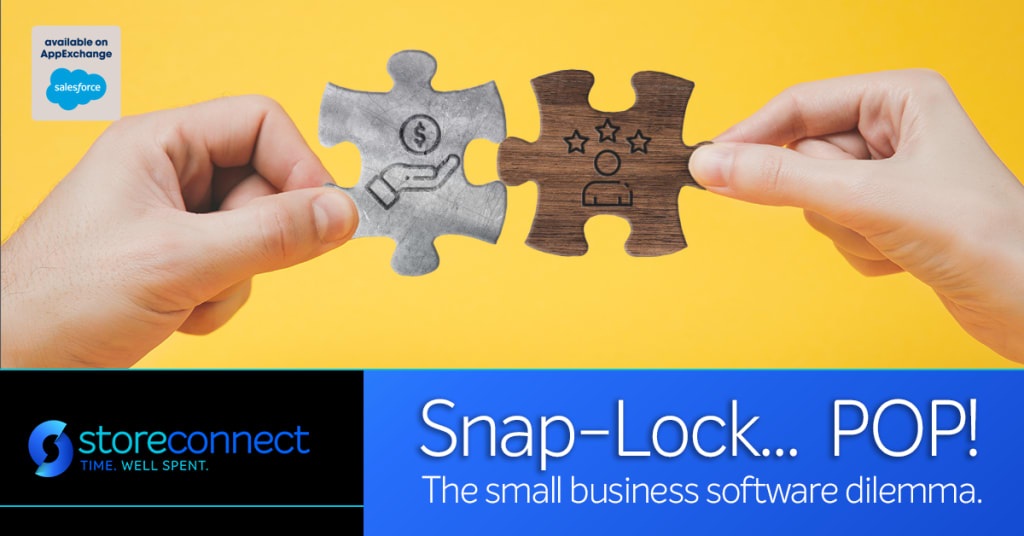 August 26, 2021
What is Snap-Lock?
Many small-to-medium businesses (SMB) begin their decision to sell online with Shopify, WooCommerce, BigCommerce, Neto, and maybe some others I haven't mentioned.
Then comes the integration questions. Does it talk to my accounting software, my inventory or point-of-sale (POS) system? And if it does, what will it look like once transactions start coming through? How do we manage the website amongst everything else? These are the beginning of a tangled web of what I call "snap-lock" platforms.
As SMBs grow, the snap-lock approach holds its ground for the most part. Xero snaps into Shopify, which snaps into Unleashed, which snaps into Mailchimp and so on. Now and then, a slight error appears. Just a little one, enough to be easily resolved and not be a major problem.
These errors could be that the online sale just placed on our WooCommerce site didn't push through to Xero, so the invoice isn't registered against the client account. Or Mailchimp cannot record combined point of sale (POS) and online sales against customers, thus limiting our marketing approach on high or low transacting clients. Or the inventory package we chose early on in our business growth has just updated their integrations and no longer supports the WooCommerce store we spent $20,000 developing. These are the "pops" in my snap-lock-pop concept.
Snap-lock-pop.
The small business software dilemma
The pops are those moments when these independent software platforms' links break or fail to meet demands and expectations. With business expansion and ever-increasing transactions, the more likely your snap-lock systems will pop, i.e. break.
The snap-lock-pop problem works like this:
1) Each of the above snap-lock systems tries to be the centre of attention, what's technically called a "source-of-truth". They each have their own databases and run their own shop. Each one holds a balance of customer accounts, inventory, transactions, and other information to process and match data with one another.
2) These snap-lock software systems integrate using what's called an "API" (Application Programming Interface). This means that one software system talks to another using special software code interlinking and "translating" the data between each other.
As the SMB business grows, this traditional snap-lock approach breaks down and here is when we start seeing "synchronisation errors". This is where the data being passed to/from and between the various software systems fail. For example, the more inventory synchronisation errors between the e-Commerce and inventory systems occur, the more difficult they become to manage. As an example, when invoicing synchronisation errors occur between the inventory and eCommerce systems, it can become completely unworkable, tying up more and more time to resolve.
This is why SMBs end up at a decision precipice; standing at the edge of the cliff looking left, right, up, and down with no clear path forward.
The Path Forward
The path forward is via the most logical route—your customer. Everything centres around creating the ideal customer journey, with the goal being a smooth, intuitive and enjoyable experience for your customer that keeps them coming back.
Centralising your software systems around the customer, making the customer your priority makes the most sensible choice. This means focusing your business and developing your systems around the customer rather than forcing them into processes that make sense only to you.
Salesforce, as your primary software solution, solves this problem, shifting the focus of your business back on the customer. Salesforce is renowned as the #1 Customer Relationship Management (CRM) platform and comes with out-of-the-box sales and support solutions such as Sales Cloud and Service Cloud, providing a true Customer 360 experience.
Adding StoreConnect as the SMB eCommerce solution to Salesforce makes StoreConnect plus Salesforce the most powerful eCommerce solution for small-to-medium businesses.
The beauty about a Salesforce/StoreConnect eCommerce solution is primarily this: the two platforms behave and act as one database (repository) of information offering an eCommerce solution utilising the flexibility and power of Salesforce. This means a single-source-of-truth, a sales and service solution out-of-the-box, a powerful, customisable eCommerce platform ready to adapt into the additional Salesforce marketing and knowledge solutions as the SMB expands into becoming "big business".
Speak to us for a demonstration of StoreConnect , or start your StoreConnect trial now through the Salesforce AppExchange.