StoreConnect announces New Zealand expansion with Moderno Solutions
StoreConnect has today announced its expansion to New Zealand with a strategic partnership with New Zealand based company, Moderno Solutions.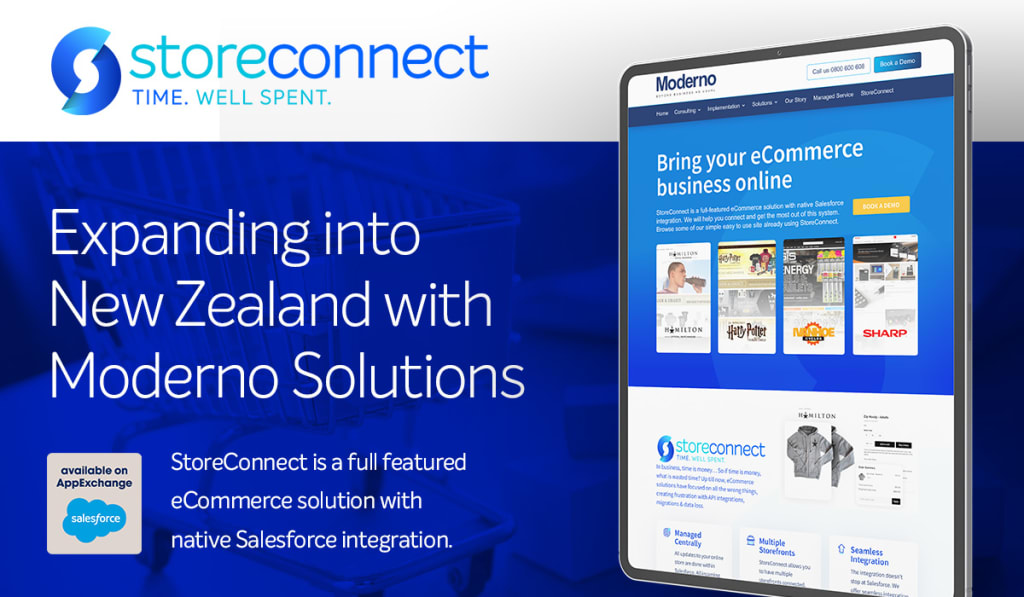 March 21, 2022
Moderno Solutions is a New Zealand owned and operated Salesforce Consulting Business founded in 2019 by Gareth Baker. Baker is a former executive of Salesforce who spent 10 years with the company starting in 2007. The company specialises in Salesforce Sales, Service, Marketing, Communities, Maps, Mobiles and Business System Integrations.
Moderno's incentive is to provide confidence to customers who use Salesforce by guiding the user with clear and easy processes - Moderno wants users to have the best experience possible.
Baker says, "The problem we see with most e-commerce platforms is that they predominantly sit independent of other business systems. This limits the ability to be able to market and service customers unless a costly and lengthy integration project was put in place."
"By having all transaction data sitting within the Salesforce platform you can provide really personalised and relevant marketing based on transaction history. When selecting an e-commerce platform customers need to be thinking about more than just a transaction. They need to be thinking about the end-to-end customer experience and a system that supports that."
"COVID 19 has sped up digital transformations as more customers look to purchase products and services online. Local evidence of this comes from NZ Post where they saw a 45% increase in Q4 of online shopping." He says.
"We've done a lot of work with other e-Commerce platforms so we know the challenges well. When we first saw StoreConnect we quickly jumped on the opportunity to partner. Salesforce has also recognised this announcing StoreConnect the Global winner of the Salesforce Partner Innovation Award for Retail."
"StoreConnect is thrilled to be partnering with Moderno in New Zealand. Our mission is to help small and medium businesses grow through Time. We'll Spent.. StoreConnect gives small to medium businesses an affordable, and incredibly flexible ecommerce solution that natively integrates with the world's number one customer relationship management system - Salesforce. Best of all – it just works. It's a time saver and lets businesses get on with their core strengths." said Mikel Lindsaar, CEO & Founder of StoreConnect.